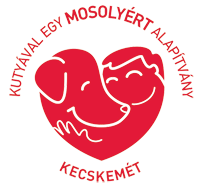 Through putting many smiles on people's faces,
our spirit will become richer and richer
The Foundation for dog therapy was registered by the registry court under the name of 'With Dogs….For A Smile Foundation'. Our non-profit organisation's goal is to spread dog therapy experience and knowledge as wide as possible, and make this type of therapy easily available for the development of children, mentally and physically disadvantaged people to improve their quality of life through the use of helping dogs.
Psychologist and ethologists have observed and studied that a dog and other pets can help people in improving their quality of life and in the recovery of their health.
The use of therapy dogs is also beneficial to children's emotional development. With the help of these dogs it is easier to build a relationships with people  who, due to their illness, are unable or find it difficult to connect with their peers or even health professionals.
Since 2011, the 'With Dogs…. For A Smile Foundation' qualified therapy dog handler teams have frequently attended classes working together educators.  In special schools  we help to improve primary students' learning abilities,  have dog assisted activities for healthy and ill children  and we help to improve hospitalised patients' health and speed up their healing process.
We would like to provide and create conditions for long term therapy work of many therapy dog handler teams. This way many more children and adults will be able to benefit from this wonderful opportunity.
| | |
| --- | --- |
| Réka Nagy-Juharos |  Ágota Juharos MD |
| president of foundation | secretary of foundation |