← vissza
Max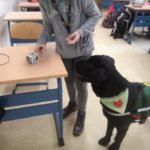 I'm Max. Maximum pleasure for my owner. I was a year old, emaciated and sick when I was placed with 2 other dogs in my temporary home.
I was very scared of everything. When we left the garden and went for a walk, I cried the whole way. I didn't know what was happening to me. One of my owner's dogs died unexpectedly, so I stayed with her, comforting her. And she spent more and more time with me.
We went to dog school. It took me a while to get used to my new surroundings. I hardly left the kennel until I was a year old, so suddenly all the new stimuli was strange. I didn't feel so comfortable. But all the petting, praise and yowling gave me courage. I quickly opened up and have been helping my owner with everything ever since.
She is a dog trainer, I am the model dog, I show everyone what to do. In addition, since I am already very brave, I help the children to become brave too. Oh, and old people! I love them too! All the kindness and caresses I get from them! In return, I entertain them by showing them tricks.
My goal in life is to prove to as many people as possible that large black dogs are just as much dogs as their lighter-coated counterparts and that it is possible to train an adult dog to be a full-fledged companion. If we meet on the way, please pet me, thanks!
Contact: guszti92@gmail.com