← vissza
Véda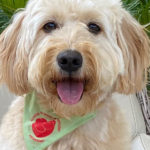 Hi,
I am Véda, the smallest member of the Hajdú family. I was born in Germany, on the 7th May,2018. My father is a miniature brown poodle and my mom is a golden retriever, so I am a crossbreed dog.
For my owner's biggest pleasure I am in Kecskemét now. I've taken a very big journey to come here. I was a birthday present for her. She was as happy as possible. As soon as she saw me, she hugged me. I've never seen this kind of happiness before… (I also feel the same joy every time she comes home after work!)
It took some time to learn some important rules. For example, stealing or chewing slippers and shoes, digging holes in the garden or peeing on the grass are all forbidden things. When I was 4 months old, we went to a dog school. My teacher Ágota taught to me how to be a disciplined, enduring and obedient dog. I love treats, so I will and can do everything to deserve it. Fortunately, after many practising and learning, a wonderful thing happened. On the 24th July, 2020, I became a therapeutic dog and my owner is my conductor.
I have a wonderful big family. There are four children and everyone adores me. Tomi is 8. He taught me how to play football, although I don't like to be the goalkeeper. I love running, playing with balls, rolling and lying on the grass. I have already know many tricks and I can show them to anybody. My owner often takes me to her school, where she works and I like it so much, because I love kids and I can be with my owner. We have already taken part in a running race, attended a camp for children and other interesting events.
I am very curious as to what else will happen in the future!
Hope to see you soon, too.
Contact: voroseni@gmail.com