← vissza
Dolly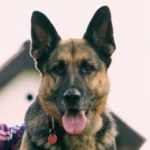 I am Dolly, a rescued German Shepherd. My Master found me in a flaying house when I was 3 years old. Luckily, she adopted me and took home, where I became a real member of a family as a second dog.
I spent a lot of time with her and after a while she started to teach me. Later, she realised that I am a talented German Shepherd so I am able to learn more than she first expected.
Then, she took me to Ágota Juharos dr. who is the owner of a school called 'With a Dog for a Smile' Foundation. Here there was a lot of studying and working. Sometimes My Master got tired but Ágota and me helped her to get over it. Our effort was so successful that she managed to make me pass the exam and I became a therapy dog and my Master is my conductor.
However, I am originally a working dog, I go to work happily with my Master all the time.
I love when the children are smiling and having a good time because I know my Master is so glad. she gives me a lot of delicious snacks and exciting toys as a reward. What else could be there for a dog?
Contact: anett.szatmari@gmail.com