← vissza
Daisy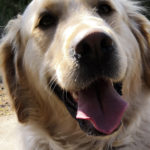 Hello! I am Daisy. I was born in Kety on 19th of July 2017, in a huge golden retriever family. For 4 weeks I lived an easy child-/puppyhood, when a few guests arrived.
I had the honour – along with my two siblings – of welcoming them, but they just lazed on the soft couch. So task fell to me, which I then dutifully performed.
I made such an impression that my new "human" mother came for me in few weeks and took me to an amazing green grassy place. I soon fell in love with my new family.
I got a dark brown brother and a big-eared, very fluffy, younger brother, who was wierdly jumpy.
When I thought that my life couldn't get any better, my human mother took me to an impressive place, where I would meet more relatives.
We went there weekly, and after a while started visiting other places with humans in them. I had to do things I had already done many times before, but a lot of people looked at and smiled at me. I loved these crowds from the very beginning, especially the children – they stroked and hugged me constantly. I hope my mother will take me to a lot of other such wonderful places!