← vissza
Süti ( Assistance dog)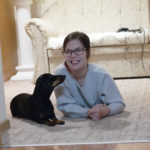 Hi! I'm Süti (Cookie), but my nickname is still Pityu.
You may already met me at the therapy dogs section, because I first helped my master's socialization by training her as therapy dog handler.
Now, in 2019 I can pull her not only for the therapy sessions, she can pull me anywhere too.
I have successfully passed the personal assistance dog exam!
I work as seizure alert and mobility dog mix, my owner is mobility-disabled and lives with seizures and panic attacks too.
My job is to help her overcome them as quickly as possible.
And together we can do many things!