← vissza
Nutella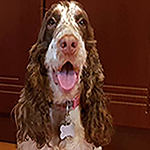 I was born on 08. May 2016. at kennel Mesztegnyei. I was only 2 weeks old, when Puszedli came to me with her owner, and told me about therapy dogs. Puszedli born too in this kennel, also she is my kin and of course a therapy dog. I didn't know, what that mean, thought it was good to you, Puszedli…
The two-legged told me, this Puszedli make a successfull exam, and for this success, our breeder, Anikó give the owner a "gift dog", and they came here to choose the right puppy. That was I, because I was so cute in the past, like in present. I got the name "Nutella".
When I became 9 weeks old, the two-legged came here again and told me, they travel home with me. I was happy to jump into the car and slept all the way. When I woke up, found myself a little Village called Babarc. I moved to my Empire, but the relationship with Puszedli was… not too smoth. She telling me "You are so crazy!", but I know, she really love me.
I was very young, when went to Dogschool with my owner in Pécs. I learned lots of things there. This Learning finally roused its fruit: on 26. May 2018. I make a wonderful Temperament Exam, and then the World's most wonderful Final Exam on 14. December with my Mum.
I'm now a Therapy Dog, like my old sister. Both of us working in the Ildiko Meixmer Special School with Childern, who have learning problems. That's a cool work, I really enjoy it!
At this time we got a baby, his name is Lénárd and I really, but really want to play with him, but Mum say, he is too young for this type of playing. When he will be bigger boy, he shall throw us ball and went us walk. I look forward this Adventure.
When you interested our Life, check our FB Page here: https://www.facebook.com/terapiaspuszedliesnutella/
High Five to Everybody!