← vissza
Mimi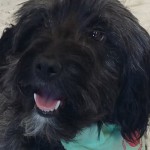 I'm Mimi, a mixbreed girl, I was born in 2015.
I came from Szeged, from my owner's good old friend, and when my current master heard that I and my siblings say hello to the World, she started to visit us.
Maybe the destiny, my good character, my handsome face or just these three things made a good work, that she choose me in the end.
She choose me in very early, when I was only 4 weeks old, she told me I will be the new hope.
When I grow up, I will be a therapy dog, that's why my owner chosen me, this is the noble goal, and I didn't expected this!
When I found this out, decided I will do everything to help my master reach this dream.
I was a very calm and considered puppy, I swore her words.
Today I'm a very smart and obedient doggy with many funny tricks in my hat, and I don't afraid to use them.
My hobby is the obstacles jump, and jumping more obstacles. My two-legged little friends are very happy, when I do this, and they lead me through this obstacles. Because I'm a small sized dog, I easily get this same size-categorized creatures trust.
My current task is to help autism people open they heart to the world and I hope can do it for a long time.
Contact: teller.gina@gmail.com