← vissza
Marci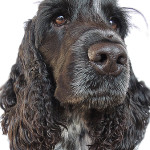 Hi I'm Marcipán (Marzipan), but everibody calls me Marci!
I was born in 2015 on June 3rd at Nyíregyháza, at an english cocker spaniel kennel. I was chosen in secret because I was my new owners birthday gift, who recently lost her beloved spaniel.
Her family knew that she wished for a dog that could become a therapy dog and accompany her to the school and help with the kids.
One thay she was gifted with me, the best and happiest suprise of her life. She couldn't speak when she saw me for the first time, she huged me and wet my fur with her happy tears (which I didn't mind). Before I got to my new owner I was tested if I am fitting for a therapy dog and I passed it. So later me and my owner went to the dog school of Ágota Juharos Phd. Wow, there were a lot of dogs and the only thing I wanted to do was play with them. But my owner had different plans. For long months we have learnt how to become a therapy dog and today I accompany my owner as a therapy dog to her school. I am very happy when the charity's tie is on my neck, because I know that we are going to meet the kids, wich means playing, running, lots of pets and of coure treats. My owner is very proud of me, she says I help the kids to learn and they behave much better when I'm there.
Elérhetőségem a gazdinál: komoroczy.m@gmail.com