← vissza
Süti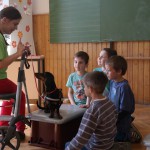 Hi, I'm Süti (in extreme cases they call me Pityu) a miniature dachshund. I was born at a breeder's home on april of 2016, at Nyíregyháza. I played a lot with my only sibling and with the other dogs from the kennel, until they have told me that I will be a special dog. I'm a brave being, so I stand in front of it!
Soon a family arrived, from the other side of the world, from Kecskemét, to meet with me. With them came a little "dwarf", who furthermore walked in a really strange way. I wasn't frightened of it! I warmly greeted the family and the limping "dwarf" – they said, she will be my new owner. Well, let it be – I thought – and I tested my future owner. I climed up on her, curled up on her lap and I already fell asleep, to sleep the sleep of the just. It was comfortable on her lap, congratulate, you can be my owner. As it turned out later, I wasn't the only one who made a decision, my human knew that she has to choose me.
I gave the best of me, and it seemed that the people liked it, after all they were the ones, who said that I have to help my owner. You know, sometimes she runs out of oxigene during walking, and collapse – my job is to predict it, or when it happens I have to call for help. I laso have to give her smaller objects, or open the door, when she walks through everything like an elephant, and there is something in both of her hands – Namely, no matter how much she wants, she can't stop.
We became such a good buddies in a few short month, that it would have been a sin to leave unused. That's why my human and me started to get private classes, where my main task was watching her not regularly standing eyes and ignore those good smells, but as I supposed to be a hunting dog, I imagined it vica versa, but neither Ágota, nor my owner didn't let me deflect by the smells. All over the top I had to quit barking. They said, I'm good at it, but the smelling is another story…. You even can't imagine how intresting animals living under the ground! And I desiare to find all of them … well, what can I do about it, every intresting smell is 8 meters away from my human? So, if you looking for me, I will be in the farthest corner of the area, very far from my owner. Although since they offer me the "kecskeméti wonder-frankfurter", I learned the thing called call-up, when they calling me – after a few sec break – I go back immediately. But you have to reward me abundantly, because next time I won't be so fast!
We took our final exam recently, in 2017. So we have officially became a therapeutic couple, who still have a lot of work to do.
And I looking forward the new challenges.
You can reach me at may owner/mummy: kutyaslany.dia@gmail.com