← vissza
Móczy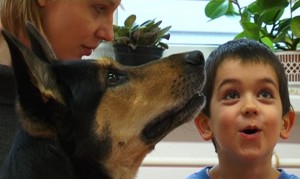 2006-2016 . She was one of the founder dog of With Dog For A Smile Foundation
I was born in 2006 in a farm. I was 10 weeks old when my master came for me. We used to go to dog school where I learned a lot and we practiced very much at home with Csabi as well. I can learn every trick very fast. On these occasions all my masters are very happy and I get lots of fine treats, but I like the same way if they stroke me.
In 2009 I passed a basic level Obedience Exam with Csabi so I have the right to use the title OBEDIENT.
In 2011 after different vet examinations and injections and even more practise we went to take another exam, where there were hard tasks, e.g. a tasty bread with liver paté was held in front of my nose, but I wasn't allowed to have a bite because my master didn't  let me. Afterwards 6-8 people surrounded me an shouted loudly, hugged and pinched me, but my master was there too and I was not afraid of them anyway, so there wasn't any problem. A lot of ordeals waited for me on that day, but I was very brave and clever, I allowed everybody to stroke me, I wasn't afraid of the wheelchair and the falling crutch and it didn't disturb me either that a little girl was shaking a bottle full of pebbles hard even though it was quite loud. I saw, that Bömbi was very skillful too.
So  both of us got a  THERAPY DOG CERTIFICATE and our masters became  therapy dog handlers.
Then we became the founders of With Dog… For A Smile Foundation
Since then we have been going to the children and adults to play, if they are sick we help to recover faster, if they can't do something well enough we help them to learn it, because it is much easier together.
You can reach me through my handler at juharosagota@gmail.com