← vissza
Füge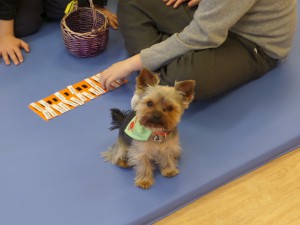 I was born in 2012. I was very little when Master Andi  adopted me.  l grew slowly. They had sad, even if I was so little and cute I wouldn't be a lap dog, so we went to different kinds of dog schools, we learned a lot, played and in the end we passed an exam. My master had butterflies in the stomach more than me, because I could do everything and the examiners were satisfied with me.
I go everywhere with Andi, the most to the hospital where there are nice nurses so I can collect a lot of strokes from them. Sometimes we meet with sad people too, and with people who have serious illnesses, but if it is necessary I snuggle up  to them so that their pain passes as soon as possible.
I like to visit children too, they learn much more cheerfully if I am there and they wait for me week by week.
You can contact me through my handler at fuge.andrea@gmail.com