← vissza
Bömbi
I was born in 2007. When I was a puppy I lived in a farm with my nice old masters. After some time they could'nt keep me on and they planed to take me to a shelter. But I was fortunate because a playmate was beeing searched for another dog, Móczy. So I got in a garden to my new ma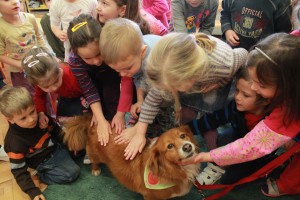 sters'.
They took me to dog school every weekend. It was great fun, there were lots of dogs there with whom I could run around and I got fine treats for good jobs. I love hot dogs.
One day we had an exam, a lot of strange men and women had me perform different tasks. A lot of children were running and screaming around me, but I did'nt care about it and I was jumping  over  various barriers with them. As I did everything correctly, we got a certificate and I became a real THERAPY DOG.
Since then I have been practicing a lot but with the children, because learning is much more exciting and easier for all of us.
Then me and Móczy became the founders of With Dogs… For A Smile Foundation.
Several times a week we go to learn with children and have many performances. Every year many dogs apply to become a therapy dog and I show them everything so that they can be skillful therapy dogs like me.
You can contact me through my handler at  juharosagota@gmail.com